Also close to our core range, we put forward implants for the hand surgery. For this we collaborate with an expert in the field: the company AREX. Practitioners know their innovations such as the Ligamentotaxor, the Ligarex, the typical Tendon or even the hand Chirobloc.
All the useful information on our partner's website: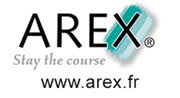 In the same spirit, we implemented an offer of implantable pins. We suggest kirschner, steinman, hacketal pins within the most requested diameters and lengths as well as within the sizes upon the request.
Interesting novelty: the sterile pins! Integrated into our catalogue downloadable below. They enable us to reply more easily to the increasingly actual topics: extra traceability, decrease in charge for the sterilisation service, ease of use in the operating room.